For years, fashion rules have existed to advise and guide people for generations to use different styles and techniques so everyone can look the best they can.
According to Complex, a lot of these rules are rooted tightly in the fashion industry, and they can even be traced back to guide pamphlets from the early 20th century. These rules had the purpose to help young businessmen to know the proper ways to dress so they could out stand at work. However, the code of dressing in that time was more conservative than today.
Though this all might seem great, styles priorities change constantly. The things that might have worked yesterday might not be the correct things to wear today.
Check the next seven styles guidelines that were accepted during a time but now they don't make any sense, for different reasons.
RULE #1: Don't wear white after Labor Day or before Memorial Day.
One of the most rooted rules in the classic time is the "don't wear white after labor day." It was a way that old riches could separate themselves from the new ones during the 19th century.
Sadly, this stubborn rule found its way to survive until modern days. Now, it is time to forget about this and start wearing white every time you want.
RULE #2: Always match your belt with your shoes.
As a formal code, the best you can do is to match the leather of your belts with your shoes. But in reality, this guideline is really unnecessary.
Though it is recommended it doesn't have an exact particular reason behind it. And also, no one pays real attention to the color of your leather.
RULE #3: Always wear socks with pants.
Over the years, people have exaggerated the necessity of wearing socks. But, the sockless summer has been stuck for some time now. This has become practically an old suggestion printed in the spring releases of men's style magazines.
Nowadays, socks are no longer necessary unless you are dressed up in a suit. The only thing you must be sure is that you have to be wearing something on your feet.
RULE #4: Always wear a belt if your pants have belt loops
One of men's fashion style purposes is to be useful. Adornments and pockets on clothes can be sometimes vestigial or useful, after all these things have derived from military and work purposes. Clear examples of these adornments include the ticket pockets and shoulder epaulets. And nowadays belt loops are part of this list.
We are living in 2015. Now belts are only a choice. If the pants fit they won't fall down.
RULE #5: Match your pants to your socks
This is a rule that can be considered as a hyper-conservative fashion guideline. Years ago, the rule used to be that if you are wearing brown socks with brown pants, or black socks for black pants. The purpose behind this guideline was that when the pant and sock blended together with the same color it would help the man look taller.
But, this rule didn't always work and only make men embrace this rule. Luckily, the guideline has died though sometimes tend to reappear for a while.
RULE #6: Never wear pleated pants
Don't make this rule to get stuck in you. Though this menswear's ground rule has been a thing in the latest years, which says that pleats are most of the time unflattering, they are returning as retro trend, but remember that is easy to do pleats incorrectly.
The best way is to wear single pleats and to be sure that it fits perfectly and do not think that these are not your dad's preferred pants.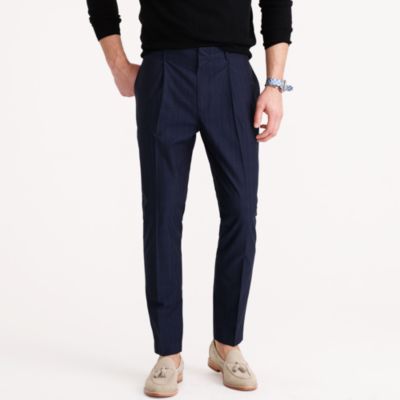 RULE #7: Never wear black with blue or brown
According to old-fashion rules, men couldn't wear black with brown or navy together.
This rule has been for many decades, but now that no one is really paying attention to it you can be free to do it so.